There is a wide range of benefits of a vegetarian diet, that we should go veg as soon as possible. A vegetarian diet is one that does not include any meat or seafood. However, there are many variations to this – some people following a vegetarian diet may eat eggs and dairy foods, while others may avoid one or both.
A vegan diet is another form of vegetarianism where only plant foods are eaten and all foods from animal sources are avoided (meat, seafood, dairy, eggs and sometimes honey and gelatine).
Vegetarian diets can have many health benefits. They can offer all the essential vitamins and minerals necessary for a long and healthy life provided they are well-planned.
Breastfeeding mothers and children who have a vegetarian diet need to take particular care to make sure they get all the essential nutrients they need for healthy growth and development.
10 Benefits of a Vegetarian Diet
1. Increases lifespan
If you switch from the standard American diet to a vegetarian diet, you can add about 13 healthy years to your life, says Michael F. Roizen, MD, author of The RealAge Diet: Make Yourself Younger with What You Eat. "People who consume saturated, four-legged fat have a shorter life span and more disability at the end of their lives. Animal products clog your arteries, zap your energy and slow down your immune system. Meat eaters also experience accelerated cognitive and sexual dysfunction at a younger age."
2. Lower cholesterol levels
Believe or not but there is no health benefit in eating animal fat. As cholesterol comes only from animal foods, vegetarian diets are cholesterol-free. Although cholesterol is an essential component of each human cell, vegetarians do not need to worry about not getting enough cholesterol, because the body can make all the cholesterol it needs from vegan foods. Korean researchers after examining the long-term effects of following a vegetarian diet concluded that body fat and cholesterol levels were lower in vegetarians than omnivores.
3. Less risk of stroke and obesity
The vegetarians tend to be much more conscious in their food choices and usually never overeat or pick foods based on emotions; two practices that greatly contribute to obesity. The University Hospital Ghent Department of Pediatrics in Belgium says adopting a vegan diet is a good way to minimize your chances of having a stroke or being obese.
4. Reduces risk of diabetes
Non-vegetarians usually experience extreme levels of blood sugar, sometimes very high, just after consumption. This can be avoided and a constant flow of blood sugar can be maintained if the nonvegetarians swap over to a vegetarian diet. A healthy vegetarian diet is easy to absorb, is nutritious and contains less fatty acids.
5. Lowers blood pressure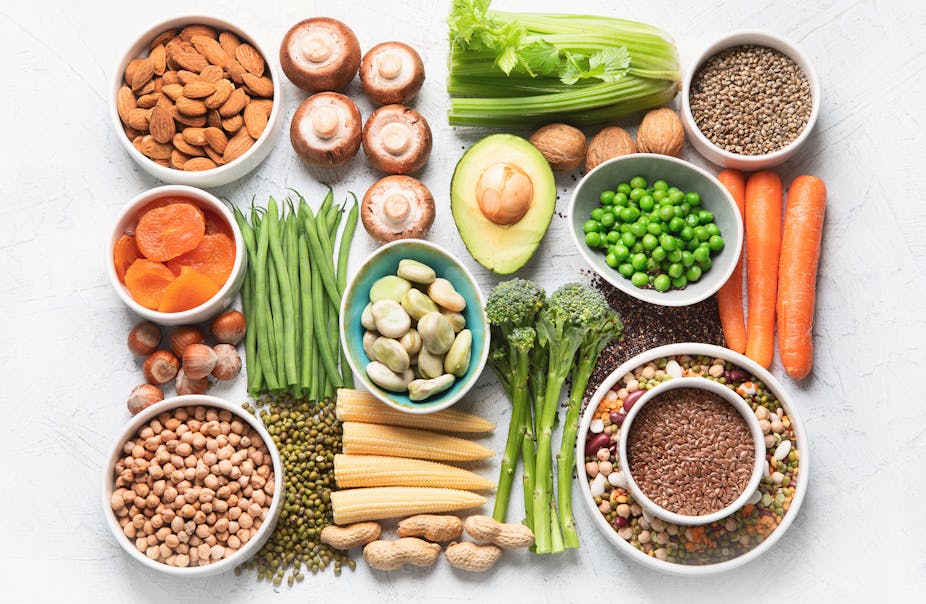 Long ago, researchers started noticing that people who don't eat meat may have lower blood pressure. Studies have shown that vegetarians, particularly vegans, have lower blood pressures than their meat-eating counterparts.
Plant foods tend to be lower in fat, sodium, and cholesterol, which can have a positive effect on your blood pressure. Fruits and vegetables also have good concentrations of potassium, which helps to lower blood pressure.
6. Decreases asthma symptoms
An older Swedish study suggests that a vegetarian diet, specifically vegan, may decrease symptoms of asthma. Twenty-two out of 24 participants who ate a vegan diet for a year saw improvements, including less dependency on medications.
It's thought that certain animal foods may produce an allergy or inflammation response, so removing these foods from the diet can reduce these responses.
7. Promotes bone health
Osteoporosis rates are lower in countries where people eat mostly vegetarian diets. Animal products may actually force calcium out of the body, creating bone loss and osteoporosis.
In one study, people who followed a lacto-ovo vegetarian diet for 20 years or more had only 18 percent Trusted Source less bone mineral by the time they reached age 80. Omnivores, or meat eaters, in this study had 35 percent less bone mineral at the same age.
8. Get more energy
Good nutrition generates more usable energy—energy to keep pace with the kids, tackle that home improvement project or have better sex more often, Michael F. Roizen, MD, says in The RealAge Diet. Too much fat in your bloodstream means that arteries won't open properly and that your muscles won't get enough oxygen.
The result? You feel zapped. Balanced vegetarian diets are naturally free of cholesterol-laden, artery-clogging animal products that physically slow us down and keep us hitting the snooze button morning after morning. And because whole grains, legumes, fruits and vegetables are so high in complex carbohydrates, they supply the body with plenty of energizing fuel.
9. Gives healthy skin
If you wish to have healthy skin then you need to eat the right amount of vitamins and minerals with plenty of water. Fruits and vegetables that we eat are very rich in vitamins, minerals and also have sufficient antioxidants. Moreover, as they are water based, if you eat them raw it can further improve the intake of healthy nutrients. Many vegetarian foods also are rich sources of antioxidants that help you stay disease free, with healthier skin.
10. Help reduce pollution
Some people become vegetarians after realizing the devastation that the meat industry is having on the environment. According to the US Environmental Protection Agency (EPA), chemical and animal waste runoff from factory farms is responsible for more than 173,000 miles of polluted rivers and streams. Runoff from farmlands is one of the greatest threats to water quality today. Agricultural activities that cause pollution include confined animal facilities, plowing, pesticide spraying, irrigation, fertilizing and harvesting.
Read more:
10 Worst Foods For Diabetes You Should Avoid