The Apple Watch 5 isn't super affordable, starting at $399 (£399, AU$649), and in many ways, it's nearly the same watch that last year's Apple Watch Series 4 was. Read the following Apple Watch 5 review for more information.
It's a feature that's long overdue: The Pebble, Amazfit Bip, Fitbit Versa 2, Samsung Galaxy Watch and Google Wear OS have had always-on modes for years. Always-on doesn't improve battery life — in fact, it makes things a bit worse. But among smartwatches, the Apple Watch stands as the most feature-filled, well-performing wearable in existence.
Release date and price
The Apple Watch 5 was introduced alongside the iPhone 11 range on September 10, 2020 and it's on sale now around the world. It costs $399 / £399 / AU$649 for the GPS-only model in the smaller 40mm size. The 44mm size costs a bit more, at $429 / £429 / AU$699.
The 40mm cellular model starts at $499 / £499 / AU$799, and goes up to $529 / £529 / AU$849 for the 44mm size. Most people won't need the LTE version if they're always carrying their iPhone with them, but the larger 44mm size usually nets you better battery life, and offers larger touch points on the slightly bigger screen.
The Apple Watch 5 starting price is for the aluminum case, which comes in three familiar finishes: Gold, Space Black, and Silver. One new perk is that this year's case is made of 100% recycled aluminum.
You can also pick it up in stainless steel for a higher price – $699 with a sport loop or sport band, $749 with a Milanese loop, or $799 with a leather loop. The all-new titanium Apple Watch 5, in light and dark finishes, starts at $799 with a sport loop and goes up to $899 with a leather loop.
The Watch will once again come in a white Ceramic finish, starting at $1,299 with a sport loop and going up to $1,399 with a leather loop.
All that said, with the launch of the Apple Watch 6, the company has discontinued the Watch 5 – that said, you can still get it from third-party retailers, theoretically for the prices above, though we'd expect to see it getting discounted soon.
Design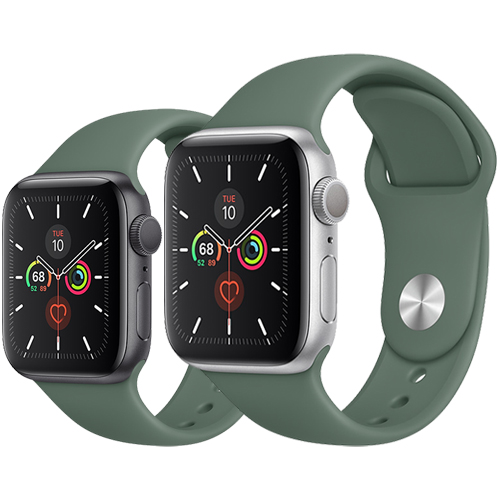 In terms of shape, nothing has changed in the Series 5 compared to the Series 4. That's no surprise – the Series 4 was a drastic redesign that brought bigger screens than previous models, in a thinner body.
So, here you get a nearly edge-to-edge display, with curved corners in a look extremely reminiscent of current iPhones (without the notch).
There's still the Digital Crown on the side, which functions as a way to scroll (in addition to the touchscreen), as well as a kind of Home button. Next to that is a side button that can be used to switch apps, or to call the emergency services.
It's still the best-looking smartwatch overall, though its lead is certainly less than it's been in the past. But the personalisation here is excellent – being able to choose so many different colours and finishes, plus Apple's seasonal new strap colours, helps you get something that suits you personally.
The design is not massively thinner than other higher-end smartwatches, but does a good job of looking like it is, thanks to a uniform lozenge-like curve on the edge, and the fact that the extra thickness of the heart-rate sensor is hidden invisibly beneath it.
The only real design change is the addition of the titanium finish option. As a material, it's lighter than steel, though heavier than aluminium, and this is reflected in the weight of the watch, which splits those two nicely.
In terms of looks, it's also very much in-between the aluminium and steel models – the brushed finish has a smoother, higher-quality sheen than the almost matte look of the aluminium Apple Watches, but is nowhere near the shininess of the steel models.
Battery life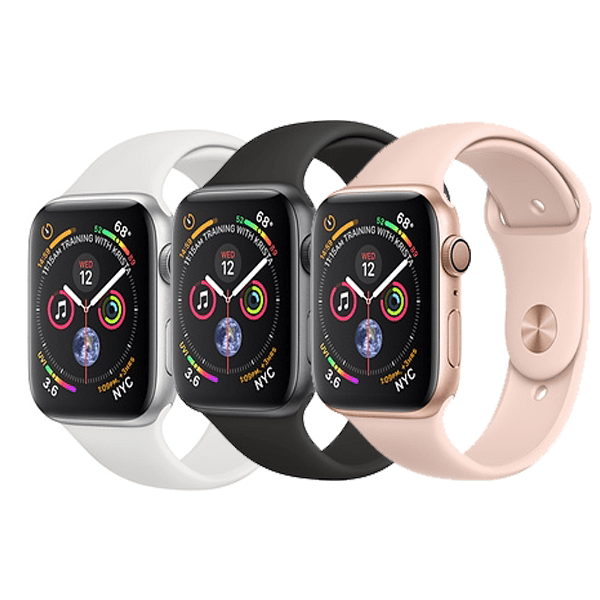 While other smartwatches issue warnings that using the always-on display will negatively impact battery life—for example, the Fitbit Versa 2 will last for three days with the always-on display active versus five days with it off—the Apple promises that the Series 5 watch gets the same 18 to 20 hours of battery life that the previous five generations of watches got with or without the always-on display.
It's an impressive feat for sure, accomplished through the use of a low-temperature polysilicone and oxide display, ultra-low power display driver, efficient power management integrated circuit, and new ambient light sensor. But the fact that Apple was able to add an impressive always-on display without impacting expected battery life underscores how frustrating the Apple Watch's battery is. While it charges quickly—It was averaged about 70 percent in an hour—it also requires an annoying level of attention. If you go away for a weekend, you need to take the bulky puck charger with me. And even throughout a normal day, it was always on my mind, unlike the Fitbit Versa 2, which can last for days.