Figuring out the best foods to eat when you have diabetes can be tough. That's because your main goal should be controlling your blood sugar levels. However, it's also important to eat foods that help prevent diabetes complications like heart disease. Your diet can have a major role in preventing and managing diabetes. Here are the 10 best foods to control diabetes, both type 1 and type 2.
1. Quinoa
This nutty, trendy whole grain is a good source of fiber and protein, making it a smart pick for a diabetes diet, Sarah Koszyk, RDN tells us. "With the fiber and protein combination found in quinoa, you'll feel fuller and have better blood sugar control. Protein also helps with the uptake of carbohydrates so the body can process them more easily.
2. 100% Whole Wheat bread
Elizabeth Snyder, RD, LD, CDE says you can still eat carbs if you're diabetic. You just have to watch out for portion sizes: "The trouble [with eating carbs as a diabetic] lies in eating more carbohydrates than we need, as the body will choose to store any extra energy as fat," she says. So, rather of cutting out carbs entirely, Snyder recommends switching to complex carbs, such as 100% whole wheat bread, which are higher in vitamins, minerals, and blood-sugar-managing fiber than their simple, refined counterparts.
3. Beans
"Beans provide a notable combination of plant protein and soluble fiber that can help boost feelings of fullness and manage blood sugar levels," Jackie Newgent, RDN, culinary nutritionist, and author of The All-Natural Diabetes Cookbook explains. "Replacing some meat with beans can play a helpful role in heart health," which is particularly important for diabetics as heart disease is one of the most common complications of diabetes. Consider adding kidney beans to soups and black beans to your casseroles to boost your intake of the legumes.
4. Wild Salmon
"Salmon is a smart addition to anyone's eating plan, but for individuals with diabetes, it's especially beneficial," Lori Zanini, RD, CDE tells us. Here's why: "It's a healthy protein source that will not raise blood sugar levels and will help to decrease the risk of heart disease and stroke—a major concern for diabetics." Salmon's heart-healthy qualities come from its high levels of omega-3 fatty acids. This particular fat reduces levels of triglycerides, a risk factor for coronary heart disease, according to a review in the journal Endocrine Practice.
5. Spinach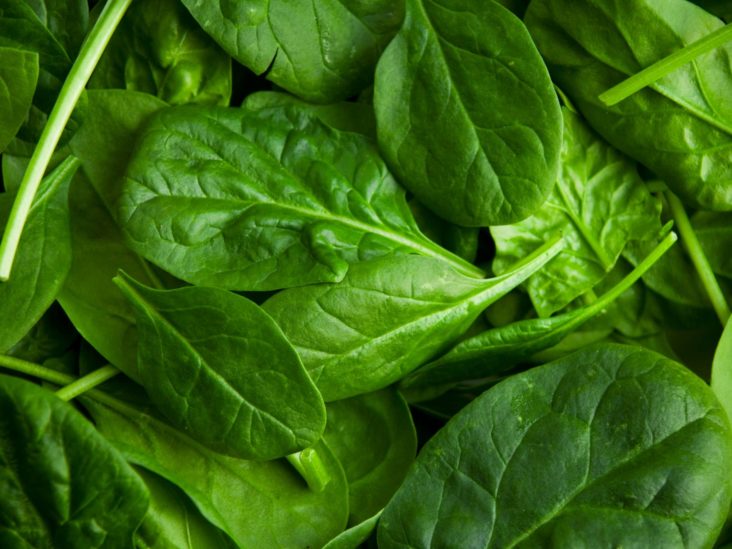 "Leafy greens, like spinach, are great non-starchy vegetable options because they contain lutein, an important nutrient for eye health. This nutrient is essential for people with diabetes since they have a higher risk for blindness than those without diabetes," explains Newgent. That's not all spinach has going for it. A study published in the journal Archives of Internal Medicine found that adults who consumed 4,069 milligrams of potassium per day had a 37 percent lower risk of heart disease compared to those who consumed only 1,793 milligrams. Just one cup of cooked spinach contains 839 milligrams of potassium (which is equivalent to what's in 2 medium bananas) or 20 percent of that target intake.
6. Broccoli
"Cruciferous vegetables like kale, broccoli, cauliflower, brussels sprouts and cabbage are high in something called sulforaphane," Miriam Jacobson, RD, CDN says. "The compound helps reduce oxidative stress and vascular complications associated with diabetes like heart disease and neuropathy, a term used to describe a problem with the nerves."
7. Raw almonds
Raw almonds are one of the best foods to control diabetes you should add to your daily menu. "I often recommend an ounce of almonds as a snack," Zanini tells us. "Almonds don't raise blood sugar levels and are a great source of magnesium, a nutrient that improves insulin sensitivity."
8. Avocado
What's better than avocado toast? Perhaps it's the fact that this fatty fruit can help you maintain healthy blood sugar levels, making it one of the best foods for diabetics watching their blood glucose levels. "Avocados contain a significant amount of healthful fats and dietary fiber, which help slow carbohydrate digestion and absorption and prevent spikes in blood sugar," Newgent tells us.
9. Peanut Butter
"When living with diabetes, eating a filling breakfast is an essential way to start the day," says Erin Spitzberg, MS, RDN, CDE, and author of Eat Like a Normal Person. "Adding a little fat for added satiety can help," she explains. She recommends pairing up your favorite breakfast carb—either a slice of whole grain toast, bowl of steel-cut oats, or high-fiber cereal—with 1 tablespoon of natural peanut butter. "The peanut butter adds approximately five grams of fat, which will help slow digestion and keep you full a little longer."
10. Kale
Kale is called a superfood for good reason! Rich in fiber—with 16 grams, or over 60 percent of your daily recommended intake, of the digestion-slowing nutrient in just one cup—and low on the glycemic index, kale can help improve blood glucose control.
READ MORE:
https://newlifez.com/worst-foods-for-your-bone.html