If you're looking for a new men's watch, the sheer volume of brands out there can be overwhelming. So which ones actually matter?  For each dial name, we've selected our favourite model from the current line-up. Across this edit you'll find dive watches, dress watches, field watches, chronographs, GMTs – whatever you're looking for, you're sure to encounter a worthy recommendation. So, here are the best watch brands for men in 2021 you can buy right now.
Best Watch Brands For Men In 2021
1. A Lange & Söhne
Many regard the Saxon watchmaking house as Germany's answer to Patek Philippe – and recent auctions show that serious money is being paid for both early, complicated pocket watches and the more special pieces produced since Lange's "new era" began after German reunification.
Watch of the collection: Lange tends to get it right first time, so it's not surprising it was 15 years before it felt the need to upgrade the Lange 1 Time Zone. While the city ring and the crown-based synchronisation mechanism have both been retained, there's a new movement that powers day and night indicators for each dial and a nifty system to flag locations that use daylight saving time. From £46,800. alange-soehne.com
2. Andersen Genève
This is the 40th year since Dane Svend Andersen left his job in the "complications" department at Patek Philippe to set up his own workshop in Geneva. Although he sold the brand in 2015, Andersen remains involved.
Watch of the collection: A special 40th anniversary version of the much-praised Tempus Terrae world timer gets our vote. Powered by a movement based on the two-crown mechanism developed by Louis Cottier in the 1950s, its stand-out feature is a "blue-gold" dial made by heating regular 21-carat gold with touches of iron. Just 24 examples of the watch will be made, with or without diamond-set bezels. £80,200. andersen-geneve.ch
3. Avi-8
Ever heard of the Lafayette Escadrille? No, it's not a new type of resort shoe, but a unit of American volunteers who disregarded the US's official neutrality during the First World War to serve as fighter pilots for the French. They were named after the Marquis de Lafayette – the French hero of the American Civil War – and Avi-8 recently launched a darned cool £265 chronograph called the Lafayette Flyboy in their memory.
Watch of the collection: Were we less patriotic, it would have been the Flyboy. As it is, we're gunning for the Spitfire Type 300, which pays tribute to the legendary aircraft with an automatic movement featuring a winding rotor in the shape of a tiny Spit. £330. avi-8.co.uk
4. Bamford Watch Department
BWD was set up by George Bamford in 2004 as an unofficial aftermarket customiser. In 2017, however, it was brought in from the cold to become the official pimper of LVMH dial names, including Zenith, TAG Heuer and Bulgari.
Watch of the collection: In addition to the LVMH connection, BWD produces its own line, which grew from the "service" watches offered to clients while their pieces were in the workshops. These proved so popular that they spawned a catalogue of models to buy, the latest being the automatic GMT Italian (pictured) and GMT Blue & Brown. £1,100. bamfordwatchdepartment.com
5. Baume & Mercier
When the Richemont Group launched the new "socially responsible" watch brand Baume in 2018, it was intended to operate entirely independently of Baume & Mercier. But, as of June, it has been officially brought into the fold, bringing an increased awareness of environmental protection "through its focus on the use of recycled materials".
Watch of the collection: Baume & Mercier's update on the maxi version of its famous rectangular Hampton model (named after the US coastal resort) should hold appeal for formal watch fans. We like the range-topping dual time zone version that comes on a black alligator strap. £3,450. baume-et-mercier.com
6. Blancpain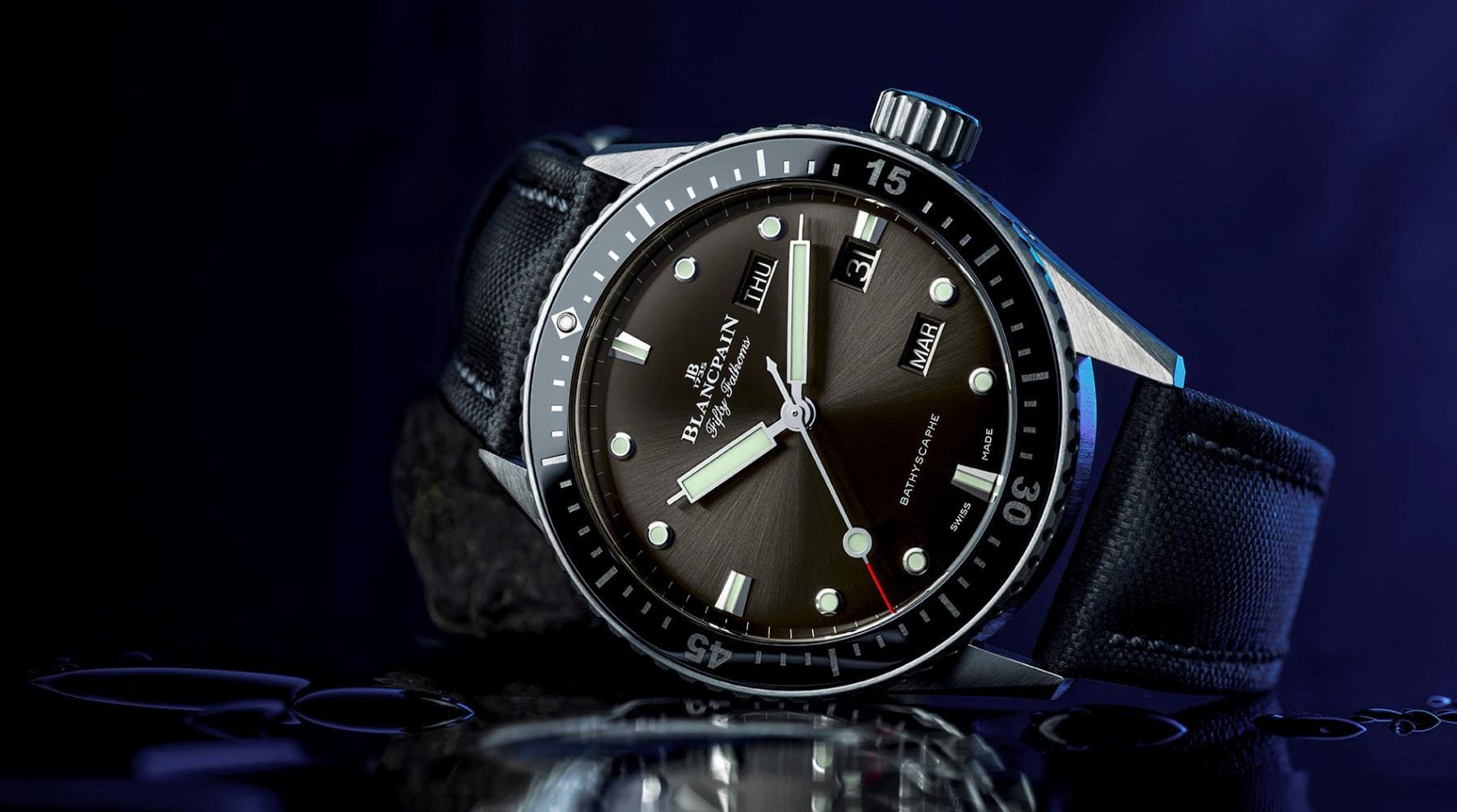 Blancpain CEO Marc Hayek's love of motorsport resulted in a ten-year affiliation with international GT racing, first as official timing partner of the FIA GT1 championship and then as the title sponsor of the Blancpain Endurance Series (including the Total 24 Hours Of Spa), which grew into the Blancpain GT Series. In late 2019, however, the brand backed down from its role and, contrastingly, stepped up its focus on environmental causes by furthering the development of its Blancpain Ocean Commitment programme.
Watch of the collection: It was in 1953 that Blancpain unveiled what it bills as the first "modern" diving watch. The Fifty Fathoms has since been made available in as many as 100 variations, with the latest being the Bathyscaphe Mokarran, a 50-piece limited edition that will raise money towards the protection of great hammerhead sharks (Sphyrna mokarran) as £750 of the purchase price will be donated to the Mokarran Protection Society. £11,900. blancpain.com
7. Breguet
Breguet is one of the best watch brands for men, which doesn't need to boost its image through sponsorship – but it is the main backer of Race For Water, a foundation dedicated to preserving H2O. To spread the word, a self-sufficient, Breguet-funded yacht is sailing the world as part of a programme called Odyssey 2017-2021.
Watch of the collection: Meanwhile, in the world of fine watches, the new Tradition Quantième Rétrograde 7597 deserves top honours. Displaying the extreme levels of fit and finish for which Breguet is famous, its retrograde date display automatically accounts for short months and leap years and snaps back to "one" on the last day of each month. £32,900. breguet.com
READ MORE: