Can you spot a good relationship? Of course, nobody knows what really goes on between any couple, but decades of scientific research into love, sex and relationships have taught us that a number of behaviors can predict when a couple is on solid ground or headed for troubled waters. Good relationships don't happen overnight. They take commitment, compromise, forgiveness and most of all — effort. Keep reading for the latest in relationship science, fun quizzes and helpful tips to help you get along with your spouse.
Accept Your Spouse
Focus on the positive. It's important to take time to appreciate your spouse during your day-to-day life. There is something that initially drew you to this person and you need to make sure you nurture feelings of love. Take time to focus on the positive aspects of your significant other.
Learn to live with certain flaws. Everyone has flaws. There is no such thing as a perfect spouse and certain behaviors do not change, even after repeated requests. If the issue isn't major, sometimes it's better to let it go.
Encourage your spouse's goals. Marriages are happiest when spouses encourage one another. You should support your spouse's hope and dreams and try to actively encourage him or her to pursue things that would help with long term goals. Try to listen and understand what your spouse wants in life and find ways to support him or her. Obviously, you can't achieve goals for another person but you can provide emotional support and advice throughout your spouse's path to success
Cope With Disagreement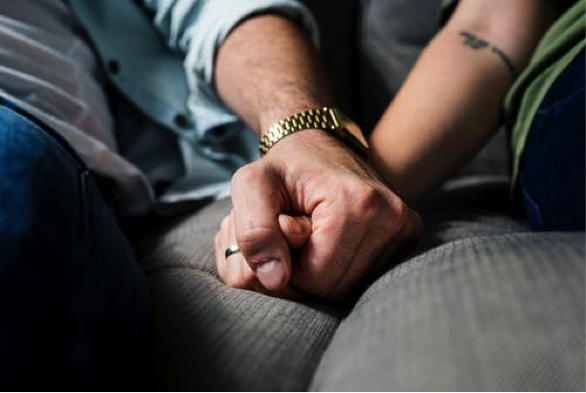 Communicate effectively. Effective communication is key to preventing and dealing with the inevitable disagreements that surface during a marriage. Learning how to communicate in a productive matter is important to getting along with your spouse.
Accept your partner's values. No two people have the the same opinions and values 100% of the time. You need to accept your partner's values even when you do not agree.
Learn your spouse's communication style. People tend to communicate in different ways. You should pay attention to how your partner conveys his or her feelings. This will allow you read your spouse better and smooth over arguments more effectively.
Understand how your partner expresses love. People have different "languages of love." That is, people use different means to show that they care. If you or your partner feels under-appreciated, the two of you might just use different "languages of love."
Pause during arguments. If an argument is getting nowhere, it's okay to pause. If neither side is listening anymore, and you're repeating the same information, simply stop the argument, give each other some space, and revisit the issue later.
Spending Time Together
Establish rituals. Rituals are important to a happy, married life. Find ways to spend time together one-on-one throughout the week.
Maintain a healthy sex life. Sex is important to a romantic relationship. Maintaining a healthy sex life longterm is vital to getting along with your spouse.
Create shared values. It's important to have some shared values as a couple. While you may not agree on everything, you should have certain shared values. You can work together on what your goals are for the relationship, the future, and career. Establishing values together as a couple can strengthen a relationship and assure a positive future.
Smile at Each Other Often
Don't come home in a bad mood. Although your spouse had nothing to do with that we tend to take out our frustrations on those we care about the most. With this perspective in mind, if you want to get over this bad mood and be able to connect with your spouse in a positive way, smile at them.
If you smile with both your lips and eyes, even if it's fake, it'll put you in a better mood. Also, since we are wired to be social if your spouse sees you smiling, they can't resist by smile back.

4

Put this in your toolkit when you want to get your spouse out of their bad mood!
Even though this article was written to help everyone get along with your spouse, you can easily use these tips to enable you to have a better relationship with anyone that you encounter. The great thing about these strategies is that they begin to work almost immediately.
READ MORE:
https://newlifez.com/ways-to-deal-with-team-conflict.html